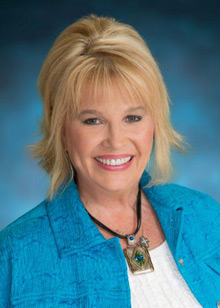 Kathy Bailey-Nelson
Broker
Kathy is a native Central Oregonian. This means she has probably been around long enough to have something in common with you! She loves the mountains,
lakes, and parks of Central Oregon. Kathy has wonderful memories of growing up in Bend, and also loves the way Bend has grown. It is highly likely that her ideas about the future of Bend will have something in common with yours!
Kathy and her husband Bob have been married for 38 years! Many of you will know Bob; he was a middle school counselor and coach in Bend for 28 years! Bob and Kathy are the proud parents of 2 grown sons. Seven years ago they experienced the deep and personal loss of their eldest son Jason in a devastating car accident. Though she has been a licensed, Million Dollar Producer since 1989; Kathy has set aside the last seven years to simply grieve and find a "new normal". During these years Kathy worked with the school district in the Speech and Language Department, giving her the opportunity to pursue one of her other great passions… working with children.
Kathy's greatest joy is her three grandchildren! She loves gardening with them and spending time with them at their various sporting and dance events!
The time is right for Kathy to re-enter the real estate industry – put your trust in her knowledge, passion and commitment.
Call or e-mail Kathy today…you will be amazed at what you have in common!
Kathy Bailey-Nelson
kbaileynelson@hunterproperties.info
(541) 390-5236